Article's author: Eugenia Sabitskaya
Published: 2012-09-16
Reviews: 7785
Monument to Alexander Pushkin - cultural relation.
No wonder that the Monument to great Russian poet and writer Alexander Pushkin was installed in 1989 on Pushkin Street in Vitebsk. This beautiful piece of art by sculptor I.Kazak and architect V.Yagodnitsky shows relationship between two great cultures: Russian and Belarusian. This is one of the classic examples of monuments in Vitebsk, established late last century.
Alexander Pushkin, the great Russian poet, passed twice through Belarus at the so-called Belarusian highway: in May 1820, leaving for the southern exile and in August 1824 on his way to exile from Odessa to the village of Mikhailovskoye. The way was laid through Chechersk, Mogilev, Orsha and Vitebsk. Besides, it is one of the friends of Alexander Pushkin, a nobleman of Vitebsk province, who suggested the idea for the story "Dubrovsky" to the poet. It is noble Peter Nashchokin who hosted the poet being in Vitebsk travelling. This is evidenced by an explanatory plaque on the monument: "In May 1820 and in August 1824 Pushkin passed through Vitebsk."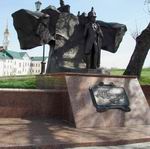 Since 1989, an annual Pushkin celebration has been held at the Monument to Alexander Pushkin at the birthday of the poet.
One of the streets (former Teatralnaya) with 200 meters length and city library in Vitebsk is named after Pushkin. One of the bridges over Vitba River was named Pushkin Bridge in the millennium of the city.
In 2011 the street and the adjacent Pushkin Public Garden was reconstructed. The street asphalt was replaced with cement and granite tiles, decorative lights were installed a colour dynamic fountain was built in the park. The street became pedestrian.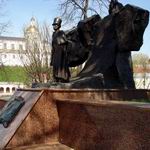 Monument to Alexander Pushkin is located in Pushkin Public Garden, next to Yakub Kolas Drama Theater.
If you do not know what to see in Vitebsk near the Monument to the poet, visit portal about Vitebsk VitebskCity.by that will tell you that nearby is a great temple of culture of Vitebsk – Art Museum. And at the mountain on top of Pushkin Street there are reconstructed relics of historical Vitebsk – the Holy Assumption Cathedral and the Holy Spirit Convent, as well as one of the attractions of Vitebsk - the building of Yakub Kolas Drama Theater.