Article's author: Evgenia Sabitskaya
Published: 2012-08-21
Reviews: 9757
Vitebsk melody on a French violin.
The House-Museum of Marc Chagall, founded in 1997, is interesting not only for its exhibits, remembering all the Chagall family, but also the monument to the great master, poetically called "Vitebsk melody on a French violin" in the courtyard. The monument is a tribute to the art of Marc Chagall, born in Vitebsk, but lived an interesting artistic life in Paris.
The sculpture of the artist was shaped by Valery Moguchy, famous for his extraordinary works which have enriched the culture of Vitebsk. Many sights of Vitebsk acquired their lives in his studio; bas-reliefs on the building of Chagall Art Center and Literature Museum are his contribution to the image of historical Vitebsk. And the monument to Marc Chagall in the courtyard of the museum is the best of the monuments in Vitebsk dedicated to the great people.
Initially, the project was supposed to be approved in the contest of the drafts of the monument to Chagall at the beginning of Pokrovskaya Street, where he is depicted with flying Galina; but the competition was won by another, also well-known sculptor Gvozdikov. They recalled Moguchy project after the opening of the house-museum in the same 1997, and it immediately became one of the leading attractions in Vitebsk.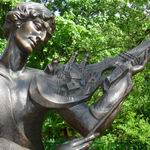 Each year more than 22.000 people come to the courtyard of the house-museum to bow to the monument to Marc Chagall. The museum is especially crowded here on July 7, the birthday of Marc Chagall, when Vitebsk residents gather near this monument of Vitebsk to honour the memory of the artist. The actors of family theater "Yahad" play at the celebration, depicting scenes from the life of the Chagall family.
Monument "Vitebsk melody on a French violin" is located in the courtyard of the House-Museum of Marc Chagall to the address:
11 Pokrovskaya str., Vitebsk.
Phone of the Museum: +375 212 36 34 68
Working from 11.00 AM to 6.30 PM, holiday – Monday (in winter – Monday, Tuesday)
Portal about Vitebsk VitebskCity.by will tell to those who wish to know the life and oeuvre of Chagall what to see in Vitebsk. This is, of course, the House-Museum of Marc Chagall at the same place, and the monument to Marc Chagall in Pokrovskaya Street by Alexander Gvozdikov. And walking to Leningradskaya Street, you can admire magnificent Roman Catholic Church of St. Barbara which had been the center of Catholicism in Vitebsk for a long time.